O papel da vitamina D na pandemia de COVID-19: revisão integrativa
Palavras-chave:
Covid-19. Vitamina D. Saúde Pública.
Resumo
A vitamina D tem sido muito discutida quanto a sua utilização em meio à pandemia de Covid-19 como tratamento de suporte. Neste sentido o presente trabalho teve como objetivo avaliar possíveis vantagens no uso da vitamina D, assim como avaliar sua eficácia e segurança como tratamento à Covid-19. Trata-se de uma revisão de literatura integrativa, utilizando as bases de dados: Biblioteca Virtual em Saúde (BVS), Pubmed e Cochrane Library. Os resultados obtidos não indicam que a suplementação de vitamina D possa prevenir ou tratar a Covid-19, apesar de resultados promissores. Portanto a vitamina D não tem eficácia comprovada para ser utilizada como tratamento ou mesmo profilaxia à Covid-19. 
Referências
1. Brasil. Ministério da Saúde. Protocolo de Manejo Clínico do Coronavírus (Covid-19) na Atenção Primária à saúde. 2020;1–33.
2. Lana RM, Coelho FC, Da Costa Gomes MF, Cruz OG, Bastos LS, Villela DAM, et al. The novel coronavirus (SARS-CoV-2) emergency and the role of timely and effective national health surveillance. Cad Saude Publica. 2020;36(3).
3. McCartney DM, Byrne DG. Optimisation of vitamin d status for enhanced immuno-protection against covid-19. Ir Med J. 2020;113(4):20–3.
4. Ribeiro H, Santana KV de S de, Oliver SL, Rondó PH de C, Mendes MM, Charlton K, et al. Does Vitamin D play a role in the management of Covid-19 in Brazil? Rev Saude Publica. 2020;54:53.
5. Hribar CA, Cobbold PH, Church FC. Potential role of vitamin d in the elderly to resist covid-19 and to slow progression of parkinson's disease. Brain Sci. 2020;10(5):6–13.
6. Grant WB, Lahore H, McDonnell SL, Baggerly CA, French CB, Aliano JL, et al. Evidence that vitamin d supplementation could reduce risk of influenza and covid-19 infections and deaths. Nutrients. 2020;12(4):1–19.
7. Zabetakis I, Lordan R, Norton C, Tsoupras A. Covid-19: The inflammation link and the role of nutrition in potential mitigation. Nutrients. 2020;12(5):1–28.
8. Meftahi GH, Jangravi Z, Sahraei H, Bahari Z. The possible pathophysiology mechanism of cytokine storm in elderly adults with COVID-19 infection: the contribution of "inflame-aging". Inflamm Res [Internet]. 2020;(0123456789). Available at: https://doi.org/10.1007/s00011-020-01372-8
9. Iddir M, Brito A, Dingeo G, Del Campo SSF, Samouda H, La Frano MR, et al. Strengthening the immune system and reducing inflammation and oxidative stress through diet and nutrition: Considerations during the covid-19 crisis. Nutrients. 2020;12(6):1–39.
10. Lau FH, Majumder R, Torabi R, Saeg F, Hoffman R, Cirillo JD, et al. Vitamin D Insufficiency is Prevalent in Severe COVID-19. medRxiv. 2020;(504):1–14.
11. Meltzer DO, Best TJ, Zhang H, Vokes T, Arora V, Solway J. Association of Vitamin D Deficiency and Treatment with COVID-19 Incidence. medRxiv [Internet]. 13 de maio de 2020 [citado 21 de julho de 2020];2020.05.08.20095893. Available at: https://www.medrxiv.org/content/10.1101/2020.05.08.20095893v1
12. La Vignera S, Cannarella R, Condorelli RA, Torre F, Aversa A, Calogero AE. Sex-specific SARS-CoV2 mortality: Among hormone-modulated ace2 expression, risk of venous thromboembolism and hypovitaminosis D. Int J Mol Sci. 2020;21(8):5–10.
13. Hastie CE, Mackay DF, Ho F, Celis-Morales CA, Katikireddi SV, Niedzwiedz CL, et al. Vitamin D concentrations and COVID-19 infection in UK Biobank. Diabetes Metab Syndr Clin Res Rev. 1 de julho de 2020;14(4):561–5.
14. Ebadi M, Montano-Loza AJ. Perspective: improving vitamin D status in the management of COVID-19. Eur J Clin Nutr [Internet]. 2020;74(6):856–9. Available at: http://dx.doi.org/10.1038/s41430-020-0661-0
15. Infusino F, Marazzato M, Mancone M, Fedele F, Mastroianni CM, Severino P, et al. Diet supplementation, probiotics, and nutraceuticals in SARS-CoV-2 infection: A scoping review. Nutrients. 2020;12(6):1–21.
16. Martín Giménez VM, Inserra F, Tajer CD, Mariani J, Ferder L, Reiter RJ, et al. Lungs as target of COVID-19 infection: Protective common molecular mechanisms of vitamin D and melatonin as a new potential synergistic treatment. Vol. 254, Life Sciences. Elsevier Inc.; 2020. p. 117808.
17. Kakodkar P, Kaka N, Baig M. A Comprehensive Literature Review on the Clinical Presentation, and Management of the Pandemic Coronavirus Disease 2019 (COVID-19). Cureus. 2020;2019(April).
18. Ali N. Role of vitamin D in preventing of COVID-19 infection, progression and severity. J Infect Public Health [Internet]. 2020; Available at: https://doi.org/10.1016/j.jiph.2020.06.021
19. Rhodes JM, Subramanian S, Laird E, Griffin G, Kenny RA. Perspective: Vitamin D deficiency and COVID-19 severity - plausibly linked by latitude, ethnicity, impacts on cytokines, ACE2, and thrombosis (R1). Journal of internal medicine. 2020. 0–2 p.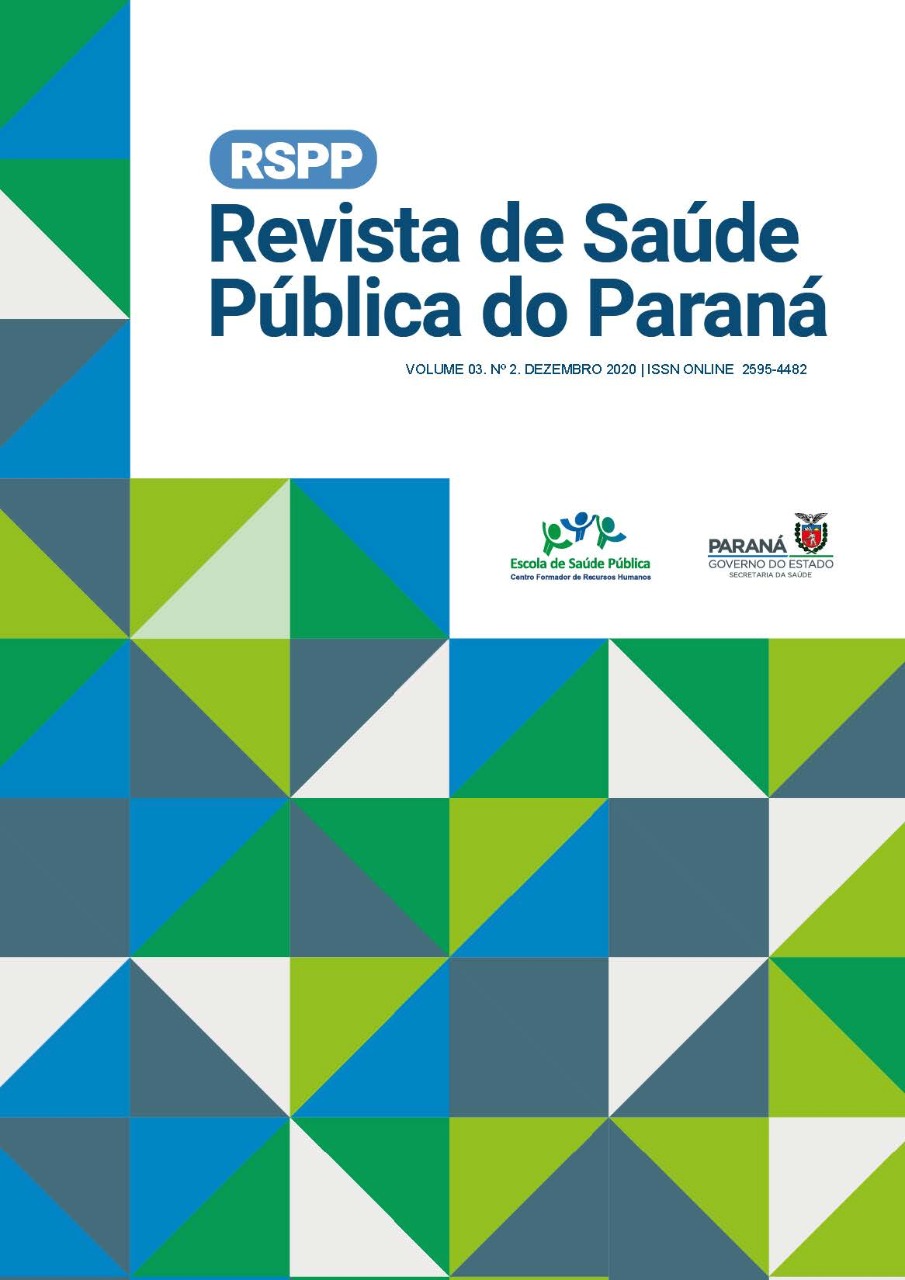 Como Citar
1.
Lima J. O papel da vitamina D na pandemia de COVID-19: revisão integrativa. Revista de Saúde Pública do Paraná [Internet]. 9abr.2021 [citado 28nov.2022];3(2):169-78. Available from: http://revista.escoladesaude.pr.gov.br/index.php/rspp/article/view/406
This work is licensed under a
Creative Commons Attribution 4.0 International License
.
Autores que publicam nesta revista concordam com os seguintes termos:
A) Autores mantêm os direitos autorais e concedem à revista o direito de primeira publicação, com o trabalho simultaneamente licenciado sob a Licença Creative Commons Attribution que permite o compartilhamento do trabalho com reconhecimento da autoria e publicação inicial nesta revista.
B) Autores têm autorização para assumir contratos adicionais separadamente, para distribuição não-exclusiva da versão do trabalho publicada nesta revista (ex.: publicar em repositório institucional ou como capítulo de livro), com reconhecimento de autoria e publicação inicial nesta revista.
C) Autores têm permissão e são estimulados a publicar e distribuir seu trabalho online (ex.: em repositórios institucionais ou na sua página pessoal) a qualquer ponto antes ou durante o processo editorial, já que isso pode gerar alterações produtivas, bem como aumentar o impacto e a citação do trabalho publicado (Veja O Efeito do Acesso Livre).